GENTLE. PROTECT. NURTURE.
Experience the utmost care and love with our Tiny Tots Care Kit. Designed to pamper your little one's delicate skin and hair, this kit is the ultimate choice for every parent.
What's Inside 
Baby Massage Oil (100 ml): Nurture and soothe your baby with a pure, loving touch. Promotes bonding and relaxation.

Baby Face Moisturizer (100 ml): Lock in moisture, prevent dryness, and keep your baby's face as tender as their first smile.

Baby Hair & Body Wash (100 ml): Make bath time a breeze - gentle cleansing and nourishment in one.

Baby Diaper Rash Cream (50 ml): Form a protective barrier to keep your baby happy and rash-free.
Regular price
Rs. 3,050.00
Regular price
Rs. 3,050.00
Sale price
Rs. 3,050.00
Unit price
per
Sale
Sold out
Free shipping on all orders
Great Deals On Products
Assured Quality
Specific ingredients that really matters
View full details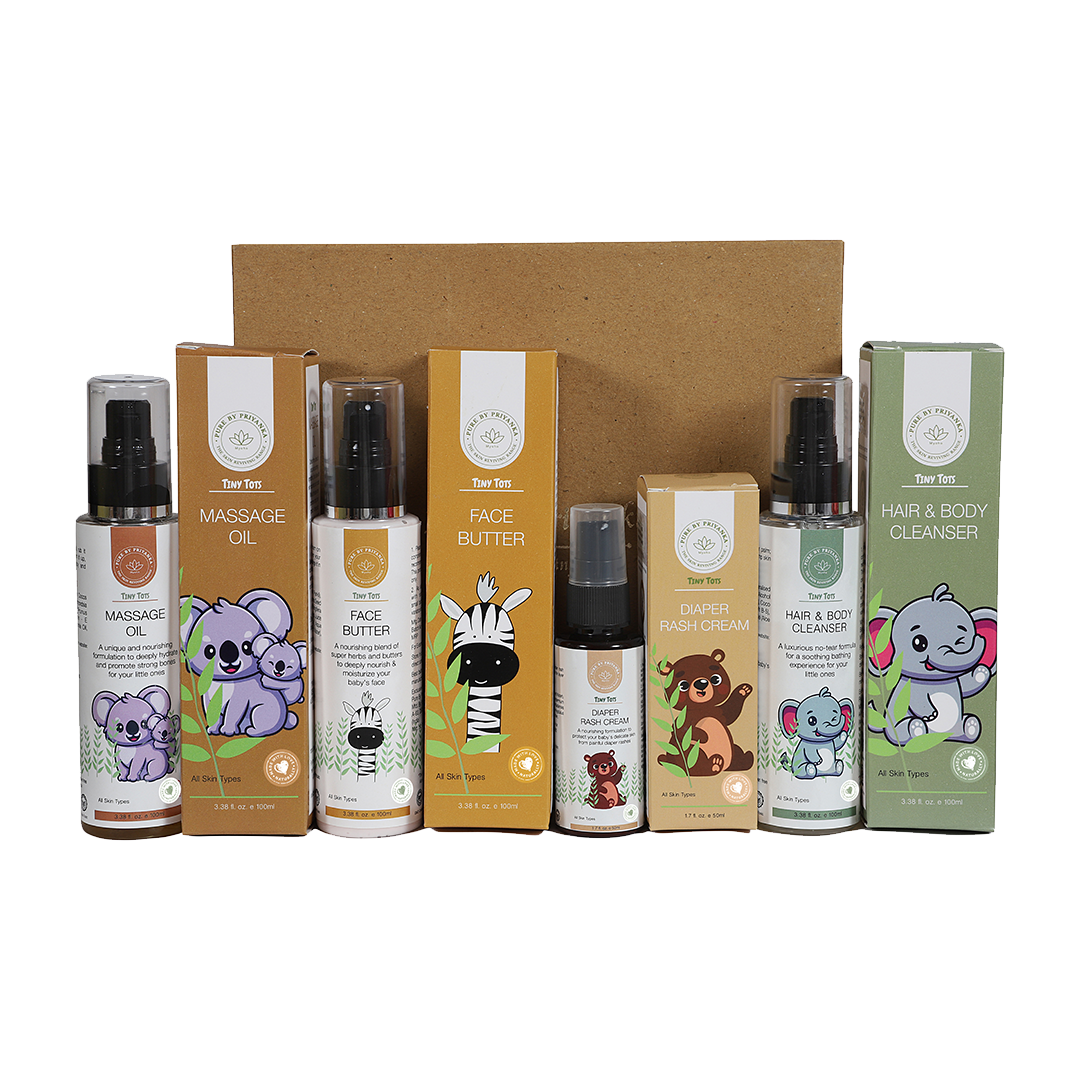 Tiny Tots Care Kit
Rs. 3.050.00
FAQs
What makes Pure by Priyanka special?
We at Pure by Priyanka blend the secrets of ancient Ayurvedic practices with modern science to create our skincare and haircare products. Our products are made with nature-derived ingredients, crafted in small batches, and are designed to be fresh, pure, and non-toxic. We aim to help you achieve naturally radiant skin and lustrous hair.
What is the shipping policy for Pure by Priyanka?
We dispatch all our orders from our central hub located in Delhi. Delivery times may vary, but typically, orders within Delhi NCR are delivered in 2 days, pan India (except for Delhi NCR) in 5 days, and international orders in 10 days. Please note that actual delivery time may vary due to COVID-19 restrictions. We offer free shipping on orders above 1200 INR, with specific charges applied for orders below this amount
What is the return and refund policy for Pure by Priyanka?
We accept refunds for damaged products or products incorrectly sent, provided they are reported within 7 days of delivery and the airtight cushion of the product packaging is not opened. However, we do not accept returns if you do not like the ordered products, and no cancellations are accepted or refunds issued once the order is dispatched. If the packaging of the product is different from the images shown on the website, no refunds are issued
Does Pure by Priyanka accept Cash on Delivery (COD)?
Yes, we do accept Cash on Delivery (COD). However, if a COD order is cancelled after approval and refused by the customer, it will result in the customer being restricted from placing any orders for the next 30 days
What types of products does Pure by Priyanka offer?
We offer a wide range of skin and hair care products. We infuse simple yet effective nature-derived ingredients in our products. All our products are crafted with love, faith, and passion, and we continuously work on offering superior efficacy and convenient usage.